As we approach 2023, outdoor deck design trends are evolving to help homeowners create their perfect backyard oasis. Focusing on sustainability, comfort, and style, the newest outdoor deck design trends are striving to upgrade your backyard experience. In this blog post, we will uncover some of the most creative and cutting-edge outdoor deck design trends that can help you craft your dream backyard.
From edible landscapes and sustainable living features to curved furniture and meandering garden pathways, there is no shortage of ideas for designing an inviting outdoor environment. Additionally, lighting solutions provide both ambiance and functionality while indoor-outdoor connections allow for seamless transitions between spaces.
Incorporating innovative products such as weather-hardy furniture or fade-resistant rugs ensures longevity without sacrificing aesthetics. Finally, luxurious amenities like fireplaces and hot tubs extend the outdoor living season by providing warmth on cool evenings or opportunities for relaxation year-round.
Dive into our exploration of 2023 Outdoor Deck Design Trends: Creating Your Perfect Backyard Oasis to discover new ways you can elevate your own exterior haven.
Edible Landscapes and Sustainable Living
In 2023, edible landscapes have become a popular trend in outdoor deck design, promoting sustainable living by reducing waste in landfills. Homeowners are requesting various eco-friendly additions to their backyard oasis.
Herb pots

for easy access to fresh herbs – check out these creative herb pot ideas.

Raised vegetable beds on rooftops

for urban gardening – learn more about rooftop raised bed gardens.

Vertical plantings

as functional wall decorations – explore the benefits of vertical gardens here.
By embracing edible landscapes and sustainable living, you can create a backyard oasis that's both stylish and practical. To add even more charm to your outdoor space, consider curved furniture and meandering garden pathways for an eye-catching design.
Curved Furniture and Meandering Garden Pathways
In 2023, outdoor deck design trends have embraced the beauty of curved furniture and meandering garden pathways. These versatile elements create unique gardens that provide ample space for relaxation or entertainment without sacrificing aesthetics.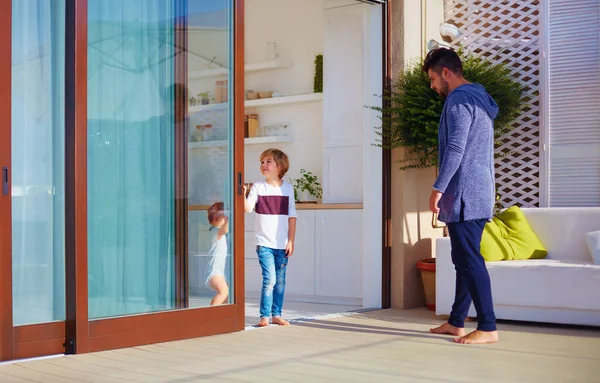 Outdoor curved seating arrangements:

Adding stylish curved sofas or chairs to your backyard oasis can make a bold statement while offering comfortable seating options for guests.

Meandering garden pathways:

Incorporating winding paths into your landscape design not only adds visual interest but also encourages exploration, making your outdoor space feel more dynamic. Check out these inspiring ideas.
Adding curved furniture and meandering garden pathways to your outdoor space can create a truly unique atmosphere that will draw the eye of any passerby. Lighting solutions for ambiance and functionality are also essential elements in creating an inviting backyard oasis.
Lighting Solutions for Ambiance and Functionality
Proper lighting plays an essential role in creating a comfortable atmosphere during dinner parties or late-night drinks. Homeowners can use various options to highlight different areas of their yard while adding ambiance after sunset.
Wall-mounted downlights

: Providing focused illumination, these lights are perfect for accentuating architectural features or plants. Check out some stylish options at Home Depot.

Solar-powered accent lights

: Offering energy-efficient solutions, these eco-friendly alternatives require no wiring and minimal maintenance. Browse through the selection at Wayfair.
Illumination can be a great way to bring atmosphere and purposefulness to your deck design, but it's only the beginning of constructing an ideal backyard retreat. With indoor-outdoor connections enabled by sliding glass doors or bi-fold doors, you can create different zones for relaxing, entertaining, and more.
Creating Zones with Indoor-Outdoor Connections
In 2023, homeowners are maximizing functionality and aesthetics by defining specific activity areas within their backyards. One popular trend is incorporating seamless indoor-outdoor connections using sliding glass doors or bi-fold doors. These options not only enhance the connection between interior and exterior spaces but also provide privacy when needed.
Sliding glass doors:

enable smooth transitions between indoors and outdoors, making your backyard oasis an extension of your living space.

Bi-fold doors:

offer flexible zoning options that can be adjusted to accommodate various activities or events in your outdoor area.
Creating zones with inside-outside connections allows for a personalized area that fuses the advantages of both worlds. Innovative products are now available that enhance outdoor spaces and provide stylish solutions for any budget.
Innovative Products Enhancing Outdoor Spaces
Manufacturers are investing heavily in products and materials geared towards outdoor living, including weather-hardy furniture that resembles interior pieces. An example of this is Room & Board's Rayo outdoor sofas made of sturdy recycled high-density polypropylene. Additionally, Annie Selke's fade-resistant, scrubbable PVC rugs come in snappy geometrics and bright plaids, adding vibrant design elements to enhance the overall aesthetic.
Weather-hardy furniture:

Long-lasting style for your backyard oasis.

Fade-resistant rugs:

Add vibrant design elements to enhance the overall aesthetic.
From modern furniture to colorful rugs, innovative products are the perfect way to enhance any outdoor space. For those looking for a luxurious touch, amenities such as fireplaces and hot tubs can extend your outdoor living season all year round.
Luxurious Amenities to Extend Your Outdoor Living Season
In 2023, homeowners are incorporating luxurious amenities like fireplaces and hot tubs to extend their outdoor living season. These additions provide warmth on cool evenings and relaxation opportunities throughout the year.
Fireplaces:

A well-designed fireplace can create a cozy atmosphere for gatherings with friends or family, making your backyard oasis even more inviting.

Hot Tubs: Installing a hot tub offers a relaxing retreat where you can unwind after a long day while enjoying the beauty of your outdoor space.
Besides these popular options, Japanese soaking tubs and daybeds inspired by luxury resorts have also gained popularity among homeowners seeking resort-like experiences in their outdoor spaces.
Conclusion
As we have seen, the outdoor deck is an essential part of any backyard oasis. With the latest 2023 design trends, you can create a beautiful and functional space that meets your needs and fits your style. 
From sustainable materials to custom lighting and entertainment features, the possibilities are endless. So why wait? Visit Big Easy Landscaping to start planning your dream deck and transform your backyard into the perfect oasis for relaxation and entertainment. Our expert team is here to guide you through the entire process and make your vision a reality. Contact us today!