Outdoor decks are the perfect way to add style and functionality to your home. Whether you're looking for a place to entertain, garden, or just relax in the sun, multi-functional outdoor decks have you covered. With innovative design ideas to fit any lifestyle, these decks can help you make the most of your outdoor living space.
Definition Of A Multi-Functional Deck
A multi-functional deck is an outdoor space that has been designed to provide multiple functions. It can be used for entertaining, gardening, and relaxing. This type of deck offers a variety of options for creating a functional and aesthetically pleasing outdoor living area. The design of the deck should include elements that will make it comfortable and stylish for all of its intended uses.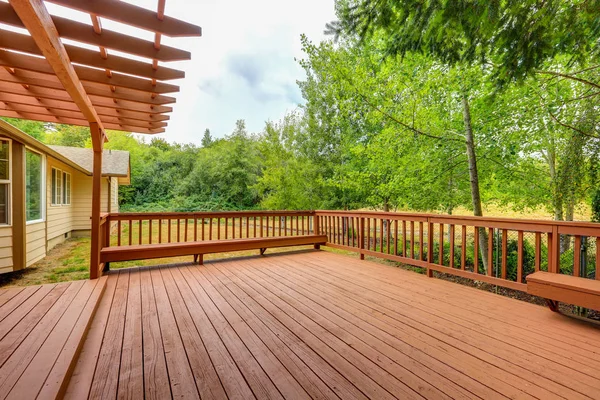 The first step in creating a multi-functional deck is to determine the size and shape of the space available. This will help to ensure that there is enough room for all the intended activities. Once this has been determined, it is important to consider how each activity will be incorporated into the design.
 For instance, if entertaining is one of the main goals, then seating areas should be included in the design plan. Similarly, if gardening is desired, then planting beds or containers should be considered as well as pathways or steps for access to them. Finally, features such as shade structures or water features might be added to create a relaxing atmosphere.
By taking time to carefully plan out all components of the multi-functional deck beforehand, homeowners can create an outdoor space that meets their needs and provides many years of enjoyment.
Utilizing Space For Maximum Impact
Having determined the space of a multi-functional deck, the next step is to make use of it in the most effective way possible. This means creating an area that can be used for entertaining, gardening, and relaxing all year round. To do this, consider how each section of the deck can be utilized and how it could be made more efficient with furniture, accessories, and greenery.
When it comes to entertaining, outdoor furniture such as tables and chairs should be chosen for maximum comfort and practicality. If there's enough space for a barbeque or firepit, these are great additions to create a warm and inviting atmosphere. Also, add in some lighting to illuminate the night sky so guests can enjoy the area after dark.
In terms of gardening, consider planters and flower boxes to bring life to the decking. Pots filled with herbs or colorful flowers help brighten up any area while also providing sustenance or attractive blooms. 
Hanging baskets or wall-mounted planters are great options if you don't have much floor space. Finally, adding comfy cushions or soft furnishings will provide a cozy place for people to relax outdoors in any season.
With thoughtful design choices, a multi-functional deck can become an inviting outdoor area that provides entertainment, gardening potential, and comfort throughout the year.
Creative Deck Materials And Structures
When it comes to creating a multi-functional outdoor deck, there are many options for materials and structures. Wood is the traditional choice, but there are also composite materials such as plastic and recycled rubber that provide a similar look with little maintenance. 
Steel or aluminum railings can be used to create sleek lines and modern designs. For a more rustic look, weathered wood can be used for posts and beams to give the deck a unique style.
For additional structure, pergolas can be added to create an inviting outdoor living space. Pergolas can provide shade from the sun while still allowing fresh air in. They also allow for the creative use of plants and vines, which can add color and interest to the area. 
It's possible to create different levels with steps or planter boxes – this adds functionality as well as visual appeal. Decorative screens or trellises can also be added for additional privacy or decoration.
No matter what type of material or structural feature you choose for your outdoor deck, it's important to consider your needs before deciding on any specific design elements. With so many options available, it's easy to customize your deck into an attractive and functional outdoor space that will last for years to come.
Deck Accessories To Enhance Ambience
Adding accessories to a deck can make it much more enjoyable and even allow for new activities. Whether you're looking for a way to entertain guests or just relax outdoors, there are a variety of items that can be used to enhance the ambiance of your outdoor space.
From decorative lighting and planters to comfortable seating and outdoor fireplaces, here is an overview of some of the most popular deck accessories that will add beauty and functionality.
Landscape lighting is an important element for any outdoor living area, from creating an inviting atmosphere to providing necessary illumination for safety purposes. With the latest technology in LED lighting, you can find stylish fixtures that will brighten up your deck while also providing energy efficiency. Wall-mounted sconces, lanterns, and string lights are all popular choices for adding a soft glow to your deckscape.
Planters are also an excellent choice for sprucing up your deck while adding color and texture. Choose from hanging baskets, vertical gardens, window boxes, or other types of containers with plants that fit the look you're going for. 
Place planters around the perimeter of your deck or create a lush oasis by grouping them together near seating areas so they can be enjoyed up close. With such a wide variety of shapes, sizes, and colors available, you'll be sure to find something perfect for your outdoor space!
Comfortable seating is essential for taking full advantage of your outdoor living area; choose pieces made from durable materials like wicker or teak that can stand up against weather conditions. 
For added convenience during cooler months when temperatures drop at night, consider installing an outdoor fireplace as well as heaters that run on natural gas or propane. With these accessories, you'll be able to extend the use of your deck throughout the year!
Integrating Garden Elements
When it comes to making the most of an outdoor deck, integrating garden elements can be key. Whether you're looking for a spot to sit and relax or a place to entertain, adding garden elements such as plants, flowers, and shrubbery can make all the difference. Here are some ideas for incorporating greenery into your outdoor space.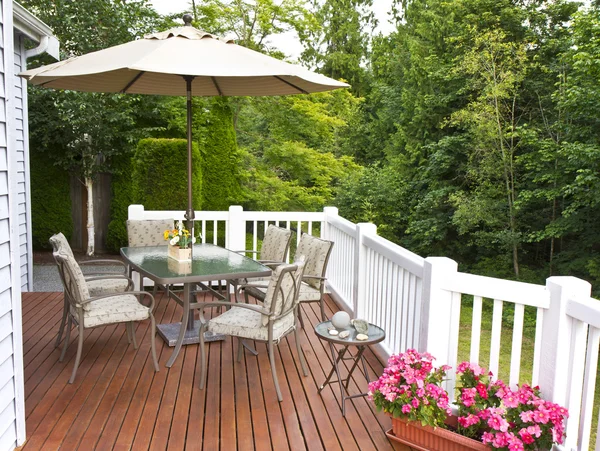 The first step is to choose the type of plants that will best suit your needs and fit the location of your deck. Consider what kind of climate you live in, how much sunlight your deck gets throughout the day, and other environmental factors when deciding which plants will work best for you. If you don't have a green thumb, there are plenty of low-maintenance options that can still bring life and color to your outdoor space.
You should also consider how to use plants strategically on your deck. For example, adding vertical gardens can help create boundaries between different areas of your deck while providing visual interest. 
You could also put potted plants around furniture or along railings and stairs to define spaces while providing additional seating options. Grouping plants together in clusters can also create cozy areas where guests feel comfortable gathering together.
No matter how you choose to incorporate garden elements into your outdoor deck, these additions will add beauty and practicality to any outdoor space. With careful planning and thoughtful design decisions, you can create an inviting area with plenty of room for entertaining, relaxing, and gardening!
Safety Considerations
When designing an outdoor deck, safety is of paramount importance. To ensure the deck is safe for all users, it's essential to consider a variety of factors. Firstly, the structure of the deck should be stable and secure, with no weak points or splinters.
The steps leading up to the deck should also have anti-slip surfaces and be well-maintained. Additionally, any electrical wiring should be safely installed and protected from moisture.
Lighting is another important factor when considering safety on a deck. If possible, install LED lighting to minimize the risk of fire hazards; additionally, make sure there are no exposed wires or cords which could trip people up. Finally, ensure all furniture and accessories are securely fastened in order to prevent them from toppling over in high winds or slippery conditions.
Conclusion
Designing an innovative outdoor deck for your home can provide you with a multi-functional area that the entire family can enjoy. From cooking and dining to simple lounging and recreation, an outdoor deck can give you maximum utility without breaking the bank.
With these design ideas, you'll have enough inspiration to create the perfect outdoor living space for your family and friends. To make sure that you get the best customer service and quality materials, contact Big Easy Landscaping.
Big Easy Landscaping offers top-notch luxury decks designed professionally according to your exact specifications. Their experienced landscapers will bring your vision to life within a specified budget – bring them on board today to create a memorable outdoor entertaining experience for all!