Are you looking to spruce up your yard? Adding a wood fence is a great way to do just that! However, how do you know what type of wood fence will best fit your needs? Today, we'll be exploring the different types of wood fences and their benefits so you can make an informed decision.
When it comes to wooden fences, there are several options available. Some may provide more privacy than others while some may offer a unique look that stands out from the crowd. It's important to consider each type when deciding which one is right for you. Whether it's picket fences, lattice panels, or split rail – each type has its own advantages and disadvantages.
So if you're ready to start building your dream fence, let's take a closer look at the different types of wood fences available and see which one is the perfect fit for your home!
Overview Of Wooden Fences
Wooden fences are a popular choice for homeowners looking to increase their curb appeal. They come in a variety of styles and can be used for both decorative and functional purposes. Wooden fences are an attractive way to add privacy, security, and aesthetic value to any outdoor space.
There are many types of wood fences available on the market today. Different types vary in cost, materials, construction methods, maintenance requirements, durability, and style.
Pressure-treated wood is one of the most common materials used in wooden fences since it is affordable and resistant to rot and insects. Other woods like cedar or redwood may also be used based on budget and desired look.
The type of fence you choose will depend on your needs and budget. Privacy fences provide more security than decorative ones but require more upkeep. Picket fences give off a classic look while split-rail designs offer a rustic touch. Shadowbox fencing is often preferred for its semi-private design that still allows views through the slats while providing some screening from neighbors.
Styles Of Wooden Fences
Wood fences come in a variety of styles, each suited to different needs and uses. Let's look at some of the most common types.
The picket fence is one of the most popular wooden fences. It consists of evenly spaced vertical boards, often with a pointed top. It's perfect for both residential and commercial applications, providing a classic look while also keeping pets and children safe.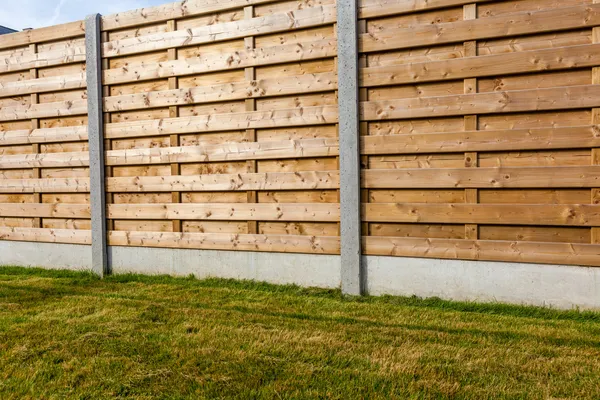 The board-on-board fence is another popular style. This type of fence has alternating boards that are attached to each other on both sides. This provides a more solid barrier than the picket fence, making it ideal for areas that need more privacy or security.
A lattice fence is an attractive option for those looking for something with more decorative appeal. It consists of crisscrossed panels that can be used to create interesting patterns or designs. It's also great for creating extra privacy around your yard or garden without blocking out too much light or air circulation.
Materials Used In Fencing
Fencing can be made from a variety of materials, each with its own benefits and drawbacks. Wood is one of the most popular choices for fencing because it's typically less expensive than other materials. There are several types of wood fences that can be used to add privacy, security, and aesthetics to a property.
Picket fences are a traditional style of wood fence that consist of evenly spaced vertical boards connected by two or three horizontal rails. Picket fences provide an open look while offering some privacy and security. They come in various heights, styles, and materials such as cedar or pressure-treated pine.
Board-on-board wood fences use overlapping boards to create a solid barrier between properties. This type of fence offers good wind resistance and provides full privacy without sacrificing aesthetic appeal. It is commonly constructed with cedar or redwood which resists rot and insects better than pressure-treated lumber.
Wood panel fences offer excellent privacy and security while also being aesthetically pleasing. These fences are made up of pre-fabricated panels which are installed between posts for quick installation. 
The panels come in various heights, styles, and materials like cedar or pressure-treated pine for long-lasting durability against harsh weather conditions. Wood panel fences require regular maintenance such as staining or painting to protect the wood from rotting or warping over time.
No matter the material chosen for a fence, proper installation is essential for both aesthetics and functionality. Professional installers will ensure that the fence fits correctly onto your property line while adhering to local building codes and regulations.
With proper care and maintenance, any type of wood fence can last for many years providing beauty, value, and protection to your home or business property.
Advantages And Disadvantages Of Different Types
The most common types of wood fences are privacy, picket, and post and rail. Each type has its own advantages and disadvantages that should be considered when choosing a wood fence.
Picket fences are made up of individual boards with gaps between them. They offer an attractive design with a classic look and are the best option for containing pets or children without blocking views or light. However, they don't provide as much security as other types of fences and require frequent maintenance due to weathering over time.
Post and rail fences consist of several horizontal rails connected to vertical posts placed at regular intervals along the length of the fence. This type is much simpler to construct than privacy or picket fences, so it's often less expensive. It also provides a more open feel than other types while still providing some degree of containment but doesn't offer much in terms of privacy or security.
When choosing a wood fence, it's important to consider your specific needs and budget to determine which type will work best for you. Each has its own set of advantages and disadvantages that should be weighed carefully before making a decision.
Installing And Maintaining A Wooden Fence
Installing a wooden fence can be a DIY project, or it can be handled by a professional. The type of wood fence you choose will determine the steps you need to take during installation.
For instance, if you choose a picket fence, then posts should be set in concrete and the pickets nailed onto them with galvanized nails. If you opt for a privacy fence, then posts have to be spaced no more than six feet apart and the boards need to be attached with galvanized screws or bolts.
Once your wooden fence is installed, there are several steps that must be taken to maintain it. Regularly inspect your fence for any signs of wear or damage and make repairs as necessary. Make sure to coat your fence with a sealant annually to protect it from rain, snow, and sun damage. 
You should also clean off dirt and debris from the boards regularly using a pressure washer or garden hose with mild detergent. Lastly, trim back any overgrown shrubs or trees near your fence so they don't rub against it and cause damage.
It's important to keep up with regular maintenance of your wooden fence in order to ensure its longevity and aesthetic appeal over time. With proper care, your wooden fence will last for years before needing any major repairs or replacements.
Alternatives To Wood Fencing
Metal fencing is a great alternative to wood fencing. It has many benefits, such as greater durability and it won't rot or warp like wood can. It's also less expensive than wooden fencing, making it a great option for those on a budget. 
Metal fencing can come in many different styles, from picket to wrought iron designs. It also requires less maintenance than wood fences, as metal does not need painting or staining to look its best.
Vinyl fencing is another popular alternative to wooden fences. Vinyl is low-maintenance and easy to install, making it desirable for homeowners who want something that looks good and won't require much work to keep up with. Additionally, vinyl tends to be more affordable than wood and may last longer due to its durability.
Chain link fencing is often used as an economical choice when it comes to fencing materials. Chain link has the benefit of being easy to maintain and cost-effective, but it does lack the aesthetic appeal that other materials offer. However, some people find chain link fencing a practical solution for their needs and appreciate its low cost compared to other options available on the market today.
By considering your budget, desired aesthetic appeal, maintenance requirements, and life expectancy of the fence material you will be able to determine which type of fence will best fit your individual needs.
Conclusion
The right fencing for any property can be a great addition to its landscaping. You surely won't regret adding a wood fence to your garden; these classic barriers look great in any landscape style. There are so many different types of wooden fences, they each have something special to offer such as decorative qualities, protection and more.
Wooden privacy fences provide an excellent sense of security and are used for both residential and commercial properties. Not only do picket fences give a property a classic look, they also provide added aesthetic appeal with their wide selection of styles. If you're looking for a traditional-style fence without sacrificing resistance despite the elements, then split rail fencing is the route you should take.
Whether you opt for wooden or metal fencing, all comes down to personal preference and budget constraints. It's always best to reach out to professionals like those at Big Easy Landscaping who can guide you in selecting the perfect fence for your needs! Therefore, if you want assistance finding the perfect wood fence for your home or property, don't hesitate to contact Big Easy Landscaping today!